On July 15th, the Help Together crews of Paradise Welfare Foundation visited San-wool Blueberry Farm.
The farm's self-supporting business is running by a social cooperative disabled group home called Jubaragi.
Since 2013 we've been volunteering at the farm a least twice a year.
At last visit we re-potted seedlings and now it's grown so we had to remove the weeds around them.
The San-wool Berry Social Cooperation was founded by the principal of Jubaragi (a group home that lasted over 20 years) to provide an opportunity of self-supporting to severe intellectual disabilities.
These developmental disabled people are working at the farm twice a week for trimming and delivering the tree.
Some of them had a very aggressive behavior in the past but these symptoms were gradually disappeared as they working.
We're extracting the heavy roots of weeds to make them to never grow back around the tree.
And now all the trees revealed clearer as the weeds are gone.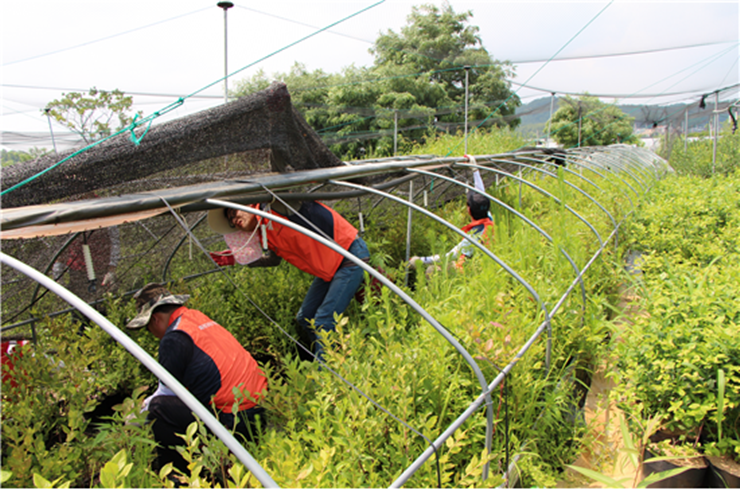 They have been cultivation in eco-friendly system and don't use any pesticides, so the environment was good for weeds to be much heavier and stronger.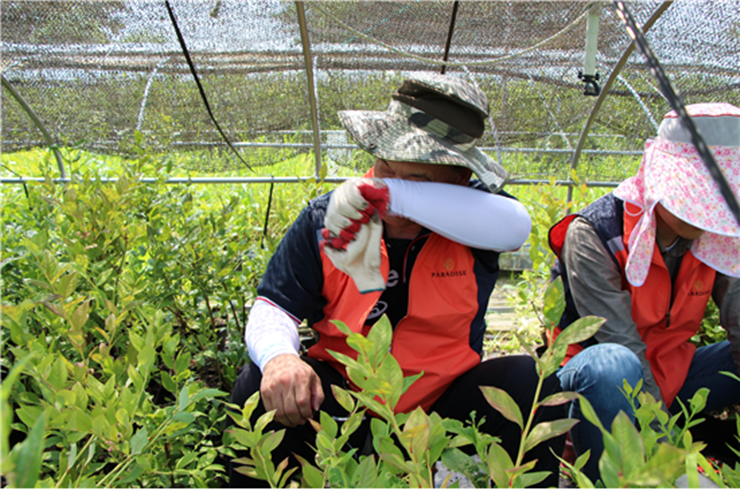 It was the hottest day of summer, as the heat wave was warned, and quite difficult to work because of sweats. But all of disabled people had a nice warm smile on their faces and that has inspired us to work harder. Their positive energy were spreaded to all of us.
Harvesting the fruits grown from tree that we saw was ver rewarding and it feels like we're getting more happiness as we share this experience with them.
Paradise Welfare Foundation will be continue to deliver the bigger happiness through helping each other just like the club's name 'Help Together'.