August 6th and 7th the foundation has held the seminar of 'Traditional Music Teaching Methods' with traditional music experts, special education teachers, arts instructors and musical therapists.
First Day of Seminar
It started with the joyful rhythmical sounds in the early morning. The class was filled with a lot of passionate attendance came from far away like Jeju Island and Gumi.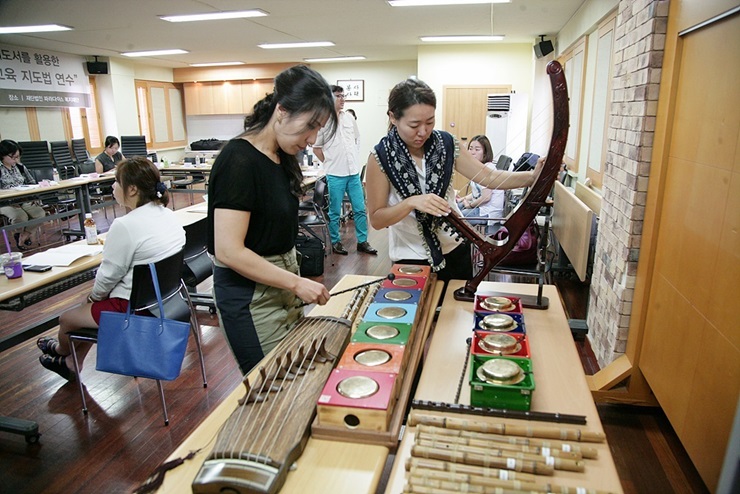 As an opening lecture Hae-rin Yun, the chief of Traditional Arts Educational Research Institute, gave us a speech about the fundamental concept of traditional music teaching methods for students with disabilities. Basic line was that the traditional music is like a native language in our blood so that we can express our emotions better using it. And we all agreed that the students with disabilities had short on the experience of traditional music and should get more opportunities to connect and enjoy with it. We were also able to find out how to compose a lesson with traditional music.
During break time we could play three of remodeled traditional instruments called Gayageum, Danso and Unrra, which was manufactured by the foundation.
The afternoon session was started with the singing guidance of Myung-hee Yeom, teacher from Traditional Arts Training Institute. As the voices of traditional song were getting louder the confidence to teach students grown too.
Second Day of Seminar
There was a lecture about 'Instrument-oriented Teaching Methods' from Jung-ok Kwon, the arts instructor.
Many were surprised with the fact that it was much easier to play the 7 string Gayageum than they though and also with the beautiful sound of it. Then after we learned the instruments, we tried to plan a simulated class by groups.
In the last hour Jung-keun Gang, who has been teaching traditional music over 16 years at the Holt Special School, let us know how to bring traditional music on a daily bases.
It was nice to know that only when we enjoy the music ourselves can have a chance to deliver for the students.
Since 2011 Paradise Welfare Foundation has started to developing the traditional instruments and writing a guidebook to provide a musical experience for students with disabilities.
We will be continue to discover and deliver our traditional musical contents for disabled to learn and enjoy easily.